Ceiling Rose Buyer Guide
 What is a Ceiling Rose?
Did you know that early Georgian centrepieces made of plaster were intended to shield the ceiling from the heat of gas or candle lights?
Today, plaster ceiling roses are one of the most commonly used decorative elements found in modern homes and businesses, bringing a genuine air of refinement to any space. Ceiling roses are not intended to support the light fixture; they are only ornamental.
Ceiling Rose Styles
Our carefully curated selection of handmade roses showcases the latest design trends and timeless classics, ensuring that we have something for everyone. 
We have a large stock of period styles to elevate your home such as Art Deco, Georgian and Victorian ceiling roses, in a wide selection of sizes from small (230mm), medium, large and extra-large (1300mm) ceiling roses. 
Victorian Ceiling Roses
Interior design was not something to be timid about during the Victorian era. Newly wealthy middle classes desired to flaunt their affluence. The ceiling roses of this era frequently featured birds, flowers, fruits, and of course acanthus leaves, these were standard in all properties from the humblest terrace to the grandest detached villa. 
Victorian Ceiling Rose prices start at £41.30 to £295. Our top selling rose is 'Plain Acanthus', this has a 610mm diameter (code MPR061) and is priced at £86.95.
It certainly has the wow factor, with deep multidimensional Victorian embellishments and beading around the outer edge.
Edwardian Ceiling Roses
 Contrary to popular belief, Edwardian ornamental plaster roses weren't all plain. Some roses continued to be decorative, cornices tended to be viewed as 'non-essential', which is reflected in their plainer form. 
 We have created a range of ceiling roses specifically to blend within Edwardian properties. You can choose from a selection of styles & sizes (from 230mm to 770mm diameter) depending on the space you're looking to renovate; prices range from £33.60 to £335.50.
 One of our best-selling Edwardian models is our 'Sunflower Rose' 520mm diameter (code MPR006), which costs £67.50.
Georgian ceiling roses usually had a cornice at the edge and circular element in the centre. Details were usually shallower in relief and more delicate.
 Along with classical themes, Rococo style also had an impact; details of birds, leaves, and shells are typical. Many ornamental plaster roses from this era also has neo-classical details.
 Our Georgian ceiling roses add the grand touch to an interior and are classically styled to embody the architectural heritage of that period.  Prices range from £85.90 to £335.50.
The 'Adams Style Plaster Ceiling Rose' which has a 730mm diameter (code LPR047), is a very popular 'Georgian' choice.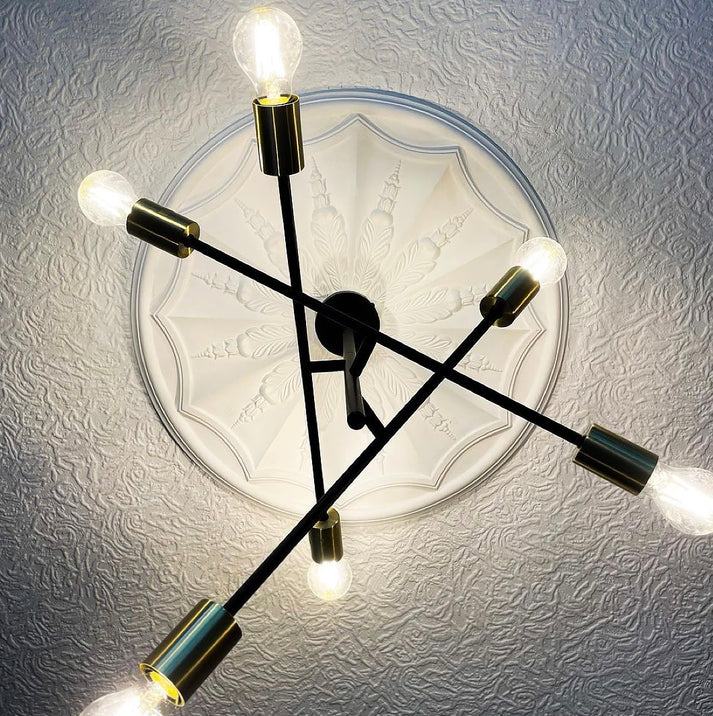 Art Deco Ceiling Roses
Art Deco is a style of decoration that originated in Paris in the early 20th century. It quickly spread to the UK after World War I. Its stylised designs were inspired by nature, with sunburst flowers, shells, etc. 
We offer a wide range of Art Deco roses made from the highest quality gypsum to give you the clearest definition possible. We have a geometric range in small, medium, and large sizes for any ceiling height. We also offer an Art Deco floral design range in 3 sizes.
 We recommend our Art Deco 'Floral' ceiling Rose, 680mm diameter (code LPR040), priced at £98.05, which features boldly moulded petals.
What Size Ceiling Rose Do You Need?
There are no specific rules... but things to consider when choosing a ceiling rose are the size of the light fitting, ceiling height and room size.
We sell roses in sizes 230mm to 1300mm diameter. As a guide, larger rooms with high ceilings will ideally need big ornate or decorative roses.
Compact or narrow rooms like walk-in closets, bathrooms, hallways with lower ceilings will need smaller roses.
Small Ceiling Roses
Made using Traditional techniques and real gypsum plaster, our small ceiling rose range is our fastest growing product category due to the requests that have been made by our customers. 
 We responded and created a new range that was all under 450mm in diameter. We now stock a range of plain & decorated smaller ceiling roses for small rooms & landings within newer homes. 
Medium Ceiling Roses
 We have a fantastic range of medium decorative ceiling roses handmade from the finest gypsum which are suitable for Victorian, Georgian, Edwardian and modern properties. The sizes range from 420 to 610mm.
 Our 'Plain Spun' ceiling rose, diameter 600MM (code MPR073) is extremely popular, this is priced at £79.00 and is extremely versatile due to its simplicity (it blends with a variety of decor, whatever the period)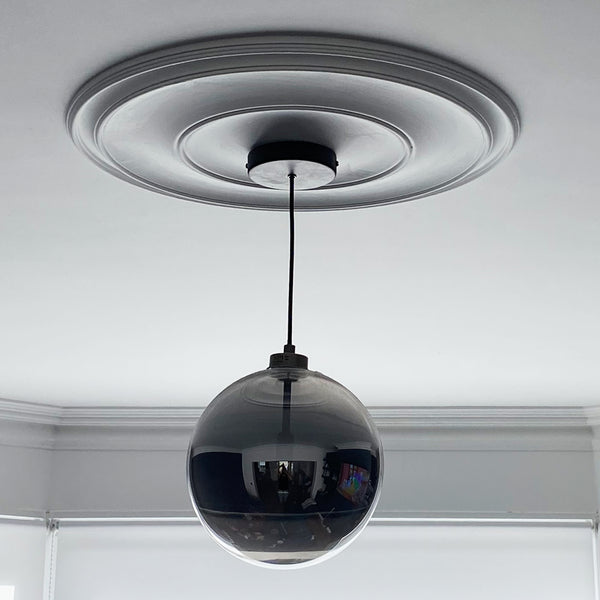 Large Ceiling Roses
This collection of large plaster ceiling roses adds style and elegance to any room, especially those with good ceiling heights.
 Our selections include a range of styles and sizes from Art Deco, Acanthus Leaf and Sunflower.They measure from 660 to 930mm in diameter and can make a dramatic change to your living space.
 A favourite of our customer is the 'Rose with Swags', diameter 840MM (code LPR072), price £176.40. This features a raised central floral panel within a finely detailed border - outside of which and within a beaded outer border there is finely cast and carefully detailed design of floral swag and drops with classical motifs.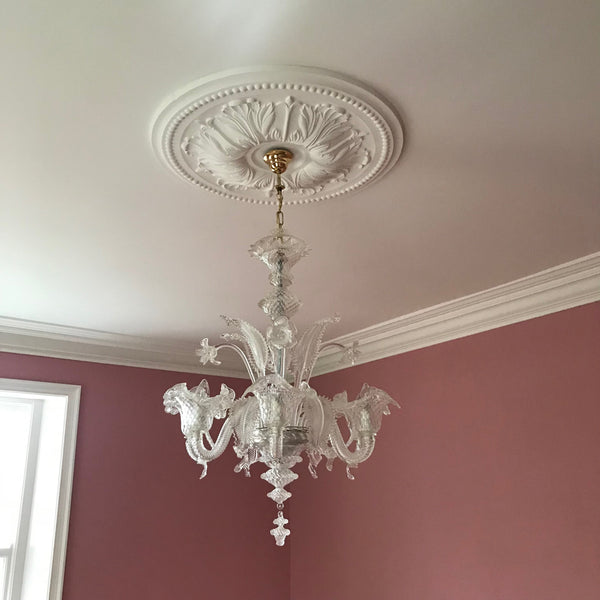 These extra-large plaster ceiling roses are all over 1000mm in diameter. As the size of our plaster ceiling roses increases, so does each ceiling roses' weight. To ensure structural integrity, we use thicker plaster to maintain strength and reduce the chances of damage on delivery. 
 When installing your ceiling rose, ensure that you have able bodied fitters handy. These mouldings require a longer delivery time but will be hand delivered by our team of drivers directly to you. 
 We adore the extra-large 'Victorian Floral' rose, with a mighty diameter of 1140nn, (code LPR071), price £273.65. This is nearly four foot in diameter and one of the largest plaster roses we cast in one piece. It features finely cast roses and petals and floral garlands cascading from the centre of the rose and has featured in many large Victorian houses where the original plaster coving and ceiling roses have been removed.
Which rooms can you install a Ceiling Rose?
Bathroom
If you have a large bathroom, ceiling roses can help to fill the room and make it feel more inviting. Conversely if you have a small bathroom, a small ceiling rose can help create the illusion of more space.
 Re style, it's important to keep an open mind. There are lots of interior designers who will pair a traditional plaster ceiling rose with an ultra-modern bathroom light fixture for dramatic effect.
Living Room

The living room is the place one can relax after a long day. I like to think of the living room as the space we mainly use at night, right before bed and on the weekends, when we take some time to relax before starting the next work week. And for this reason, adding a rose to the living room will add an air of design luxury. 
 The ceiling rose is an essential part of the light equation. Any luminaire that hangs from the ceiling does this with an electrical cable. The rosette is a decorative detail that hides the lights cables behind an attractive design, this will enhance the natural beauty of your living room.
Bedroom
The bedroom is the room in your home that you both start and end your day, and most customers desire to transform their sleeping spaces into a luxury haven.
 Adding a ceiling plaster rose will instantly enhance the overall aesthetic of any bedroom. Whether you choose a simple or ornate design, a rose will add grandeur and sophistication to an otherwise plain and boring bedroom ceiling. 
How to Measure Ceiling Rose
There is no exact size gage for how large or small a ceiling rose should be. Here is a general rule of thumb... measure the size of your room in terms of ceiling height x length x width. This will give you the square meters of the room.
Smaller than 56.7mm would require a ceiling rose around 230mm diameter. Larger than 56.7m3 would require a ceiling rose around 500mm diameter. As centrepieces for ceilings, ceiling roses should sit neatly in the centre, or off centre if a room is big enough to contain more than one. 
If you are replacing an existing rose, we strongly recommend ensuring your chosen design is the same size or bigger than the original. This will help to conceal any imperfections in the ceiling.
 A fail-safe way to determine what's the right size ceiling rose is to cut out a circle of paper / cardboard to the approximate dimensions and stick it onto your ceiling in the position of the ceiling rose.
How to Install & Fit Ceiling Rose
This is a two-man job, we recommend fitting your plaster ceiling rose with both screws and adhesive and never to rely on adhesive alone. We have an installation video guide which covers preparing the wires, preparing the ceiling rose and how to fix the rose to the ceiling. We also have a guide showing how to mix adhesive to the right consistency. 
Benefits of Installing Ceiling Rose
The installation of a plaster rose will frame the connection of the ceiling to your chosen light fitting (be it a chandelier or a simple pendant). This will create a larger impact / feature in the room. 
 The addition of a ceiling rose is certain to add glamour and make a room look more dressed and of its historic period. Another benefit of installing a plaster rose is their location above your light fitting, which helps prevent damage to the ceiling. Replacing the plaster rose is much more straightforward than repairing the entire ceiling!
How much is Ceiling Rose per Metre?
Our ceiling roses are made from the finest gypsum and range from £33.60 per rose to £335.50 for a large ornate version.